Extended supply chains. Globalization of standards. The need to maximize operational efficiency. These are some of the things that keep today's automotive manufacturers up at night.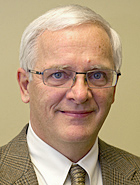 In this live videocast, Center for Automotive Research (CAR) President and CEO Jay Baron, PhD, will discuss the industry's most pressing challenges and the innovative strategies, tools and technologies that market leaders use to meet them.


Learn about technology trends that affect automotive supply chains, global industry standards and operational efficiencies.
Hear how to increase visibility, speed transactions and improve collaboration across ever-expanding supply chains.
Learn what to expect in future, more globalized, industry standards, and how they will impact efforts to streamline compliance.
Walk away with information on tools and approaches that improve operational efficiency and competitiveness.
Register for this timely videocast hosted by Plex Systems.